Office buildings around the world have been reimagined from old, industrial warehouses into unique, collaborative corporate environments.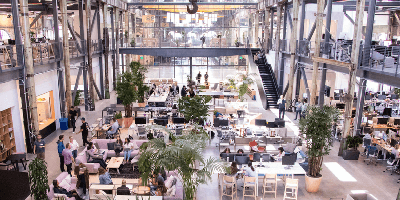 This trend is one that has grown exponentially over the years, but there is something bigger brewing in the design and construct industry. Workspace projects are now being designed in a manner to preserve the unique and fascinating parts of the building's history.
Such inclusions of historical architecture within modern workplaces can alter the atmosphere of the workplace environment into a whimsical, intriguing and creative space; and in turn, can affect the interior design and the way the employees feeling working within the area.
Throughout this week and next week's post, we will explore popular workplaces from around the world of which had designed their space to preserve the historical nature of their original buildings.
Gusto, San Francisco
Gusto is a San Francisco based startup company that has taken up residence in the former Union Iron Works at Pier 70. The design of the space can be described as a new building, inside an old building, as many of the original features are still incorporated.
The 55,000 square-foot machine shop was originally built to repair ships since the Spanish-American War of 1898, and many of its elements and features of this time are still in place. This includes gantry cranes, lifts, beams, and roofing.
The design also reflects the history of the building as the high-tech conference rooms are designed and constructed to resemble shipping containers, effectively creating an extremely modern office with the spirit of the 19th century.
Are you ready to make a statement by converting an old building into a new and productive workplace? Contact Wurkspace 7 today to find out how.
by Natassja Wynhorst